Amazing Omega for Dogs - Dog Fish Oil Pet Antioxidant for Shiny Coat, Joint and Brain Health - 120 Chews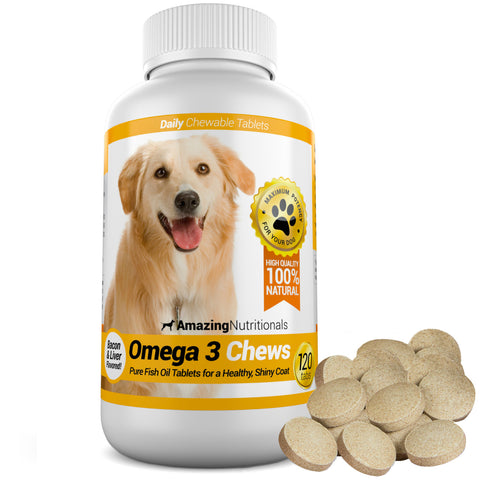 Now with 60 free tablets per bottle for a total of 120 great-tasting chewable bacon flavored tablets in one bottle!
Amazing Omega 3 Chews promotes a shiny coat, healthy bones, joints and brain health in a tasty chewable tablet your dog will love. Manufactured in our USA-based GMP and organic certified facility. Plus, it's third-party tested for purity so it's safe and effective. Guaranteed results, or your money back!

Tastes great, odorless, no "fishy" smell, no mess, small and easy to chew bite-sized bacon and beef liver flavored tablets your pet will love, perfect for dogs with sensitive stomach who hate taking pills and pouches; Treat won't harden into clumps like powder, cause bad breath, make your house smell like wild grizzly bear alaskan salmon, spill on your counters like messy liquids, no more hard to open capsules; No refrigeration needed!
No byproducts, no allergies, 100% safe, made in the USA, veterinary science approved & hypoallergenic; Works great for allergy prone dogs; No wheat, corn, maltodextrin, animal digest, grains, soy, egg, potato, shrimp, crab, shark, avocado; Proprietary canine custom formulation provides holistic nutritional boost for puppies, seniors, little or large breed; Made fresh with care in small batches in a GMP organic certified facility; Ingredients 3rd-party-tested for purity & correct dosage.
Make your dog look & feel great with the ultimate chewable Omega 3 6 9 fish oil supplement for shiny coat, healthy skin, heart, brain, immune system, joints; Natural food pharmaceutical grade formula eliminates dull coats, reduces shedding, treats dry itchy skin, remedies hip joint pain, aids rheumatoid arthritis relief, stop yeast, staph, ear itch infection, antibiotics medicine treatment; Fatty acids DHA EPA supplements dogs' diet, aids total health wellness for puppy, support for senior pets
INSTANT MONEY BACK GUARANTEE - Get your dog (or cat) off drugs & medicines, relieve their suffering, let them heal, be hot spot free, shinier coat, reduced itching, alleviate hair shed; If you don't see massive improvement in your dog's health within 28 days using as directed, simply contact us for a FULL REFUND! KEEP THE BOTTLE; No need to send it back!
YOUR DOG WILL LOVE IT - Select these affordable, powerful omegas to reduce inflammation & that dogs (and cats) love to eat. Scroll back up and CLICK THE ADD TO CART BUTTON at the top of this page to CLAIM YOUR BOTTLE NOW.
DOSAGE INFORMATION:
2 tablets daily dogs under 40 lbs, 3 to 4 up to 80 lbs, 5 to 6 up to 120 lbs; Easy to adjust dosage as needed for dog's specific conditions.
IMPORTANT NOTICE:  Please note that the date printed on the bottom of our bottles may be the MANUFACTURING DATE, the date the product was packaged. We do this to make sure you know that the product you received is fresh. We recommend the product be consumed within 18 months from the manufacturing date printed on the bottom of the bottle.
Our products are also available on these marketplaces: