Amazing Probiotic Joint for Dogs - Eliminates Digestive and Joint Problems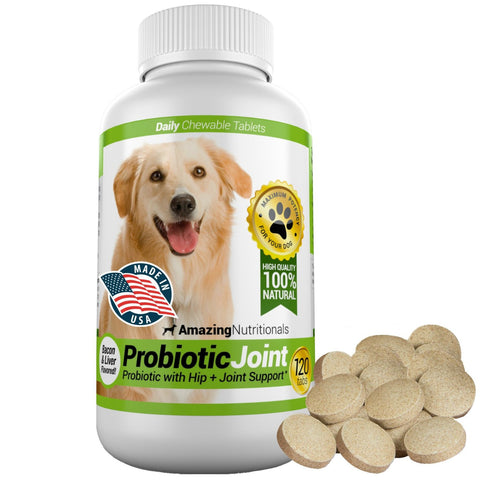 Now with 60 free tablets per bottle for a total of 120 great-tasting chewable bacon flavored tablets in one bottle. Eliminates diarrhea, constipation, upset stomach, gas, stiffness, plus arthritis pain relief. Combines live lactobacillus acidophilus and natural enzymes like fortiflora with glucosamine, msm, and chondroitin for maximum digestive health and joint mobility. Manufactured in our USA-based GMP and organic certified facility. Third party tested for purity so it's safe and effective for dogs... Guaranteed results or your money back!
IMPORTANT NOTICE:  Please note that the date printed on the bottom of our bottles is the MANUFACTURING DATE, the date the product was packaged. We do this to make sure you know that the product you received is fresh. We recommend the product be consumed within 18 months from the manufacturing date printed on the bottom of the bottle.
Our products are also available on these marketplaces: